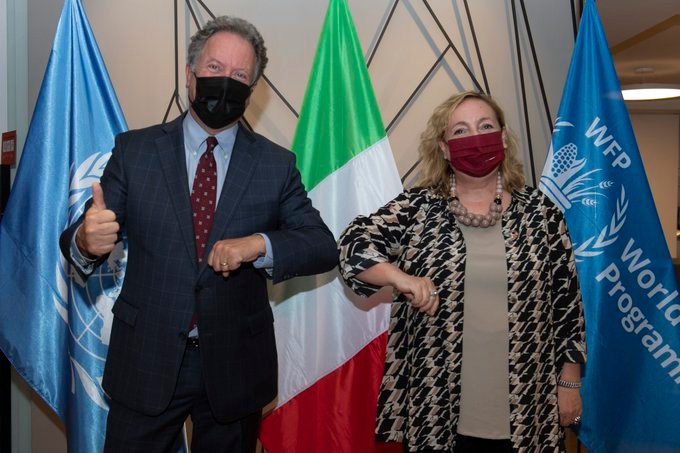 ROME, SEPTEMBER 9 – The Italian Deputy Minister Emanuela Del Re visited the World Food Programme (WFP) headquarters in Rome and met Executive Director David Beasley. The meeting confirmed the convergence between WFP humanitarian actions according to its mandate focused on food security and the priorities of the Italian Cooperation and allowed a fruitful exchange of views on WFP's ongoing interventions for food security in the main crisis areas, also with the support of Italy.
Del Re announced that Italy will increase the overall financial contribution to the agency for the year 2020, in particular in Libya and Sahel, as a tangible sign of the Italian support to WFP's work in areas of strategic interest for the country.
Beasley thanked the Italian government for the hospitality offered to WFP and for the significant contribution to the agency's activities. He then agreed with the Vice Minister on the interest to further increase the collaboration between the Italian Cooperation and WFP, as well as in the broader international and European context. In view of the current pandemic, both agreed on the need to strengthen the activities of an "effective multilateralism" in favor of sustainable development.
Del Re and Beasley recognized the importance of the United Nations Humanitarian Emergency Response Base (UNHRD) in Brindisi as a centre of excellence for humanitarian response and logistics, committing to work together to strengthen its capacity and role. (@OnuItalia)