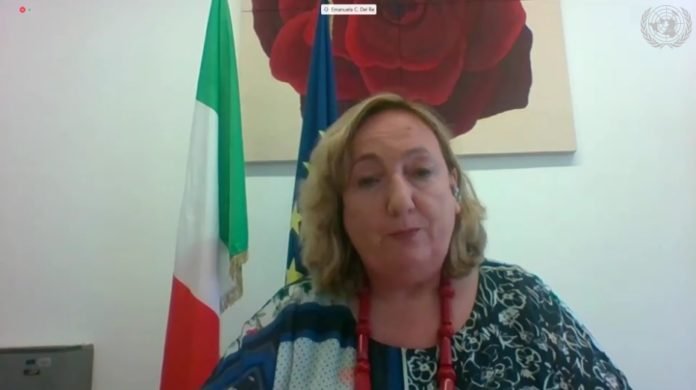 ROME/NEW YORK, AUGUST 10 – Italy stands by Lebanon and its people after the explosion in Beirut that costed the lives of over 200 people, injured 6,000 and left roughly 250,000 homeless. "This anguishing event must be turned into a historical opportunity to rebuild unity within the country", the Italian Deputy Minister for Foreign Affairs, Emanuela Del Re, said today, during a UN meeting Briefing on the humanitarian situation in Lebanon.
Italy immediately responded to the most urgent needs delivering 8.5 tons of health supplies (surgical and trauma kits) and a team of CBRN experts. "We are also working to approve initiatives for 12 million euros, including one million Euros to the Lebanon Humanitarian Fund. Coordination is crucial", said Del Re.
At the virtual briefing on Monday, high-level UN officials detailed how the situation is unfolding on the ground and what the Organization is doing to assist. "The legendary strength of the Lebanese people now faces an additional test", said UN Secretary-General António Guterres. Almost a week after the blast produced "a colossal toxic cloud that was visible for miles", he lamented that "many people remain missing". In an instant, the explosion "flattened vital infrastructure and shattered windows near and far", he stated. "Surrounding neighborhoods were levelled. Many thousands are now homeless".
And three hospitals were left inoperable, while two others sustained substantial damage. "The shock waves were felt across the city – and indeed across the Mediterranean", the UN chief said, adding that "the economic, social and other reverberations" will continue for some time.
Lebanon's Prime Minister took to national television late on Monday, to announce his resignation along with that of the Government, citing endemic political corruption.
Chairing the Monday meeting, UN Emergency Relief Coordinator Mark Lowcock said the the "swift and wide-ranging" humanitarian response was in its first of three phases. He said that the second, recovery and reconstruction, would "cost billions of dollars and require a mix of public and private finance", while the third will be to respond to the Lebanon's pre-exciting socioeconomic crisis, which is already exacerbated by COVID-19.
"Tuesday's blast will have repercussions far beyond those we see in front of us now", he warned, encouraging donors to "come together and put their shoulder to the wheel" for collective response to the Lebanese people. (@OnuItalia)