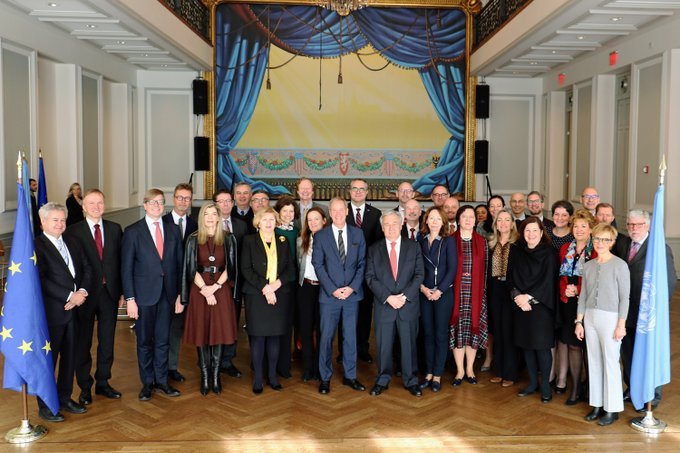 NEW YORK, FEBRUARY 3 – The United Nations need the European Union more than ever: "With multilateralism under stress, we must be ever more engaged and intensify our relationship for a UN that delivers on its promises", the UN Secretary-Secretary General Antonio Guterres said in his address to last annual UN Head of Missions retreat in New York before Brexit.
During their annual retreat, hosted by the EU Permanent Representative Olof Skoog, the European Heads of Mission welcomed the UN President of the General Assembly Muhammad-Bande to discuss shared priorities on the Assembly's agenda.
"Cooperation through effective multilateralism remains the best way to advance our collective interests", was the message shared by the European Union Delegation on Twitter.
Belgium has taken over the rotating presidency of the United Nations' Security Council (UNSC), where it will strive to broker consensus and promote European cooperation on a range of prickly geopolitical issues. "During its presidency, Belgium will bring several subjects to the table, like the problem of children in armed conflicts, transnational justice and the importance of European cooperation within the Council," the Foreign Affairs Ministry said in a press release. Belgium's mandate within the international security body started in January 2019.
Throughout the shortest month of the year, Belgium's delegation will promote multilateralism as a key way forward, the ministry said, noting the resurgence of nationalistic sentiments throughout the globe. As it sets the agenda for the security body, Belgium's diplomatic arm at the UN will first seek to tackle the situation of children trapped in armed conflicts abroad, with King Philippe set to deliver a speech seeking to "mobilise" the UNSC around the issue, which the ministry said concerns one in five children worldwide.
Two other issues high up on Belgium's agenda include the role of international justice in rebuilding communities in the aftermath of conflict as well as EU-UN cooperation, with an address by the EU's foreign affairs representative scheduled on the occasion of the latter. (@OnuItalia)