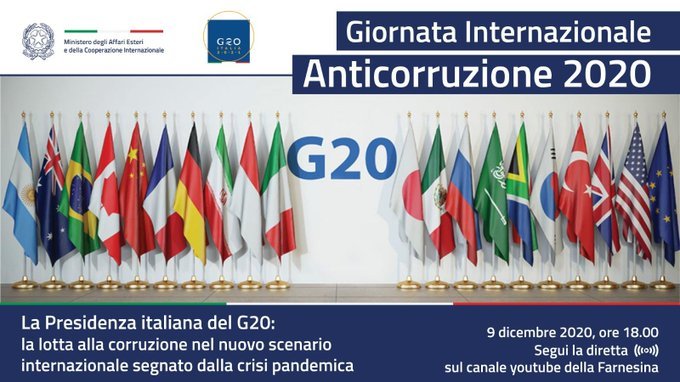 NEW YORK, DECEMBER 10 – On the International Day against corruption, which takes place on the 9th of December, Italy called for stronger, international collaboration coming from all players: institutions, civil society and private sector.
Virtual event organized by UNODC
"Corruption is a very disrupting phenomenon that impacts the stability and security of our societies, undermines ethical values, depresses the sense of justice, jeopardizes the rule of law and compromises our democratic institutions and the pursuit of the Sustainable Development Goals," said Stefano Stefanile, Deputy Permanent Representative of Italy to the United Nations in New York. Stefanile spoke during a virtual event organized by UNODC, the Vienna-based UN Office against crime.
"Forging international cooperation against corruption is an absolute necessity especially in a highly interconnected and highly digitalized global economy. This needs to be done by bringing together all actors, not only Governments but also international institutions such as UNODC and others, and civil society," Stefanile said.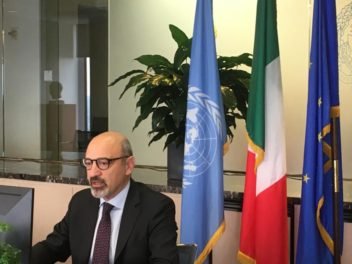 In support of the Palermo Convention
The Italian diplomat emphasized how Italy's "approach to anti-corruption policy is firmly based on multilateral cooperation… [and] the need for a comprehensive vision of corruption," which pays close attention to the connections between corruption and organized crime.
Italy's strong support for the Palermo Convention (UN Convention against transnational organized crime) -which this year turns 20 years old- is a testimony to this "multilateral, holistic approach", which is also reflected by its engagement in the Third Committee with the 'Crime Omnibus Resolution' on crime prevention and penal justice, which Italy co-submits yearly with Colombia and Mexico.
Vigilance over illegal interferences in the sanitary sector
With the hashtag #UnitedAgainstCorruption, this year's International Day against corruption places a special focus on the corruption phenomena characteristic of the Covid-19 pandemic. According to UNODC, the pandemic requires urgent action, which creates fertile soil for corruption. Stefanile explains how, " It is evident that especially at a time when the health sector is attracting so vast financial resources, the risk of corruption and illegal interference is high. So, we need to be vigilant to protect the health sector from any illicit interference and this applies to all main aspects including the acquisition and distribution of vaccines".
Italy -he added- will pay close attention to the fight against corruption during its G20 Presidency, and looks forward to a productive General Assembly Special Against Corruption next year. (@OnuItalia)