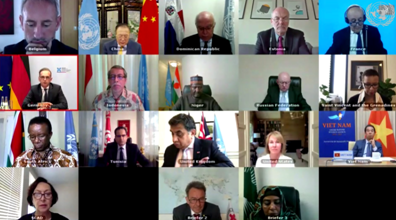 NEW YORK, JULY 2 – The COVID-19 pandemic is, in the first place, a global health crisis, requiring a coordinated and multilateral response. This is why, in all hotspots of the world, conflicting parties should adhere to the Appeal of Secretary General Guterres for a Global Ceasefire and join forces against the virus. Italy welcomes yesterday's adoption of UNSC resolution 2532, demanding a general and immediate cessation of hostilities in all situations on its agenda and expressing support for the efforts undertaken by the Secretary General in this respect: "A durable humanitarian pause is indeed crucial to enable the safe, unhindered and sustained delivery of humanitarian assistance, particularly to vulnerable groups, refugees and displaced persons", the Italian Mission to the UN said today during a Security Council debate on "Pandemics and Security".
"From the very beginning of the crisis, Italy has strongly supported such a collective approach, by actively advocating for an international alliance to advance the research on a vaccine and to guarantee its rapid development and equitable distribution. We were proud to be among the promoters – in partnership with the EU and other key Partner Countries – of the Coronavirus Global Response Pledging Conference on the 4th of May and of the following one on the 27th of June, which collected almost 16 billion euro for universal and fair access to vaccines, treatments and diagnostics to fight COVID-19. We were also among the pioneers of the COVID-19 ACT-Accelerator and the main contributors to the Covax Facility through the GAVI Advance Market Commitment, which will ensure access to the vaccine by the Developing Countries", said the Italian Mission.
In these difficult circumstances, the UN peacekeeping operations have a special role to play in supporting local communities in their handling of the pandemic: "Now more than ever, we need to remain committed to peace operations. Leaving peacekeepers shorthanded and unable to fulfill their respective mandates now, would put local populations and mission members at risk. The Italian contingent in UNIFIL has been providing medical equipment to the local health services, thus directly contributing to the mitigation of the virus impact", said the Italian Mission.
In assessing the interaction between pandemics and security, Italy put the spotlight also on food security. "We are committed to support FAO, IFAD, WFP and all relevant UN actors in their efforts to prevent a global food crisis and have been promoting a Food Coalition through the FAO to mobilize expertise, provide policy support, establish a space for dialogue and promote initiatives focused on the creation of more resilient and sustainable food systems". (@OnuItalia)