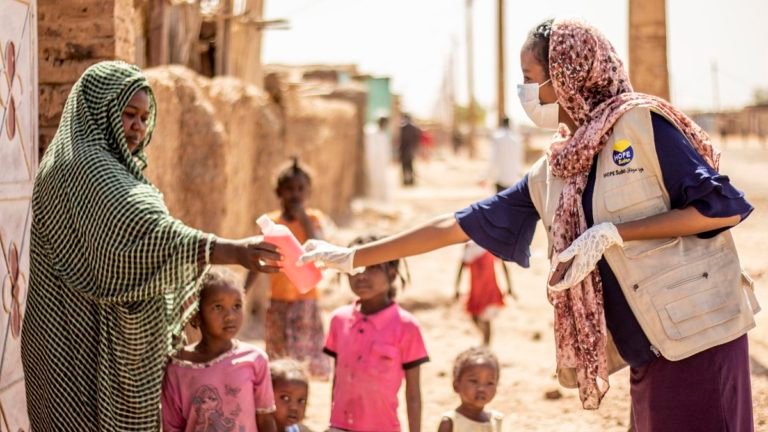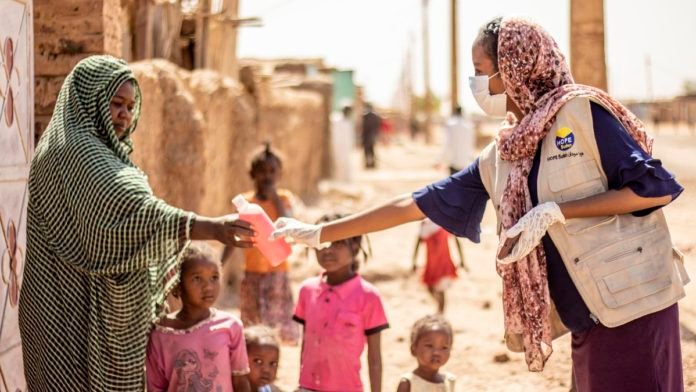 KHARTOUM, MAY 15 – Thanks to previous cooperation efforts by the government of Italy, UNDP in Sudan was able to provide life-saving health and hygiene supplies during the COVID-19 national outbreak.
Purchasing and distributing items like liquid soaps and sanitizers, sharing information with community members, and protecting at-risk groups are just some of the ways UNDP and other organizations are assisting. But the task is significant, health supplies are running low, and new solutions are required.
For two years the Italian Development Cooperation has supported UNDP- provided job training for vulnerable women and youth in Khartoum's poorest urban area, Mayo, creating alternatives for those potentially forced into conflict or crime. Soapmaking has been a popular and lucrative option for trainees, and one suddenly in high demand.  
Adapting existing projects to COVID-19 response, Italian funding enabled UNDP to commission 18 soap makers in Mayo to rapidly and COVID-19-safely produce 5,500 bottles of liquid handwash (enough for 33,000 people) – and to purchase 1,500 bottles of additional stock. 
Then, in partnership with local taxi company Go Cars, community networks, NGOs and advocates, the supplies were distributed – safely – to those most in-need in Khartoum State. 
Complementing these efforts, rapidly repurposed funds from the Government of Norway ensured another 2,000 households – about 10,000 people – were supplied with purchased soap and other hygiene supplies in Mayo. 
Supporting livelihood opportunities and hygiene supply needs elsewhere, urgent soapmaking has also been carried out in Sudan's While Nile and Sennar States.  
Generous support from the Swedish International Development Cooperation Agency (Sida) has ensured production of 12,000 soap or sanitizer products in Sennar (given to 4,000 people), while Sida and the Government of the Netherlands support has produced 7,000 soap or sanitizer products in White Nile, benefiting 8,000 people, including many South Sudanese refugees. Critically, all assistance has meant supplies can be delivered safely. (@OnuItalia)