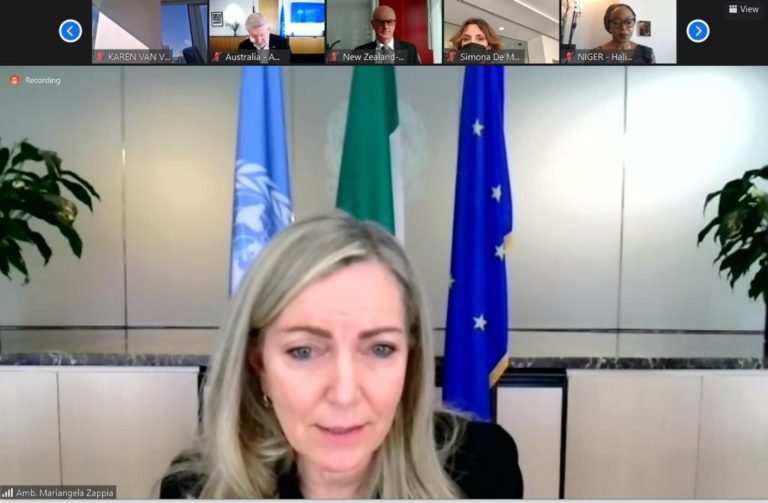 NEW YORK, JANUARY 28 – "Fighting inequalities is essential to a better recovery. Gender parity and women's empowerment are a cross-track topic throughout the agenda of  Italy's Presidency of the G20″, the Italian Permanent Representative to the United Nation in New York, Mariangela Zappia, said today.
Zappia spoke in video-conference to the UN Group of Friends
for the elimination of violence against women and girls. "Italy is strongly committed to end gender based violence with a national strategic plan and targeted laws and measures to prevent, protect, prosecute and support victims of violence and discrimination", she added..
The meeting was held ahead of the upcoming session of the Commission on the Status of Women 2021. The 65th session is scheduled to be held from 15-26 March and will consider the priority theme of "Women's full and effective participation and decision-making in public life, as well as the elimination of violence, for achieving gender equality and the e
mpowerment of all women and girls". The session will also review the agreed conclusions of the sixtieth session, "Women's empowerment and the link to sustainable development".
Due to the COVID-19 pandemic, CSW65 is scheduled to take place virtually/online (including the general discussion, ministerial round tables and interactive events), with the exception of two in-person meetings (opening and closing) planned to take place with the participation of New York-based delegates. Negotiations of agreed conclusions would likewise take place virtually. This format takes into account the constraints and opportunities as they might present themselves in the changing and evolving environment of the COVID-19 pandemic and the related safety and health guidelines implemented at the United Nations Headquarters.
 (@OnuItalia)