ROME, APRIL 8th – Ahead of the G20 Culture Ministerial meeting to be held on July 29 and 30 in Florence, the Italian Ministry of Culture is organizing a series of international multi-stakeholder webinars dedicated to major cultural issues, such as: the fight against the illicit trafficking of works of art; the effects of climate change on cultural heritage, the creative industries and the digital revolution; and the interaction between culture, training and education.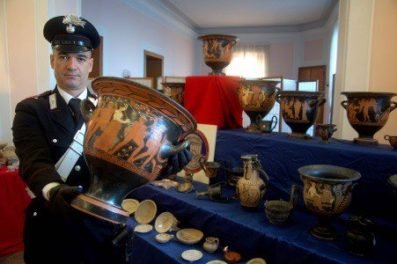 The first webinar, entitled "Protection of cultural heritage and illicit trafficking. The Future will give us back our Past," will take place tomorrow, April 9th. General Roberto Riccardi, commander of the Carabinieri Unit for the Protection of Cultural Heritage, will open the meeting which will address policies for the safeguarding and protection of heritage in both war zones and following natural disasters, with a focus on combating illicit trafficking in cultural assets. "Italy has traditionally promoted the idea that culture is an instrument of peace, and that one can contribute to peacekeeping also through the protection of cultural heritage", said the Italian Permanent Representative to the UN, Mariangela Zappia, during the inaugurating, in January 2020, of an exhibition at the UN Headquarters on the activities of the Italian "Monuments Men". The exhibition was one of the last public initiatives at the UN to be held before the lockdown.
The meeting on April 12th -entitled "Addressing the Climate Crisis through Culture: Preserving Cultural Heritage, Supporting the Green Transition"- will be dedicated to environmental issues, as it will analyse the impacts of climate change on cultural heritage, and the measures to be taken for its protection and conservation.
The last meeting will take place on April 13th, under the title of: "Building Capacity through Training and Education – Human Capital, the Driver of Culture-led Regeneration". This event will aim to promote education and training actions directed at communities and younger generations, so to improve the awareness of the values of cultural heritage and culture.
The program of the events and information on the speakers participating in the webinars are both available on www.beniculturali.it/g20webinar. The three webinars can also be live-cast on the YouTube channel of the Ministry of Culture.
As with the previous two, it can be followed on the Ministry's YouTube channel. (@OnuItalia)