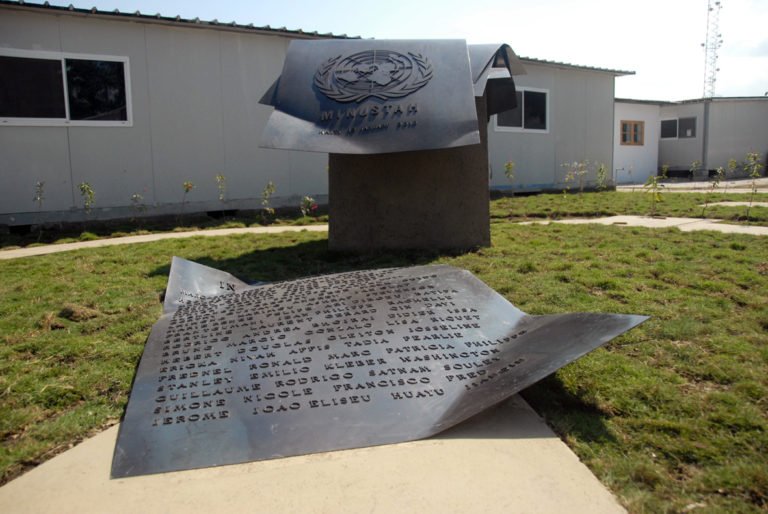 NEW YORK, JANUARY 10 – Ten years since Haiti's catastrophic earthquake, Davide Dormino's sculpture "A Breath" arrives to New York. The work of art was produced in 2011 in the logistical base of Minustah, Port au Prince, in memory of the United Nations staff who lost their life during the January 12th 2010 earthquake.
Dormino's brother, Marco, is a Unicef photographer who survived the earthquake by minutes, having just left the UN building before its collapse. However, two Italian UN officials, Cecilia Corneo and Guido Galli, lost their lives.
The sculpture will be installed in the North Lawn of the UN Headquarters in New York. It evokes a breath, the instant before the earth started shaking. It shows a stack of metal sheets of paper sitting on a block of concrete. One of the sheets has fallen to the ground, and on it are the names of the 102 Un staffers who lost their lives in one minute: names without surnames, no alphabetical order, for when death arrives it follows no logic. The earthquake took the lives of over 300.000 Haitians, and Dormino has imagined how their names could have been among them. The commemoration is schedualed for the 17th of January, and will be held in the General Assembly's Meditation Room. The artist will be attending.
Over the course of the past years Dormino has created a number of permanent, public art works such as Atlante (2019), 'Poltergeist_monumento all'invisibile' (2019), 'Naviganti_monumento all'immaginazione' (2017), 'Anything to say? A monument to courage' (2015). One of his most well-known bronze sculptures, it  portrays four chairs: the last one is empty, whereas on the previous ones are three modern symbols of liberty, Edward Snowden, Julian Assange and Chelsea Manning. The sculpture was briefly exhibited at the UN of Geneva. (SB@OnuItalia)