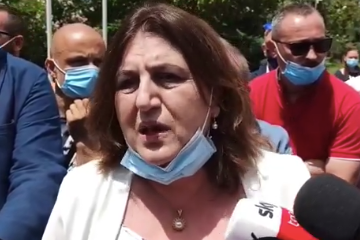 GENEVA, JULY 10 – "The Italian government response to the COVID-19 pandemic aimed to address the most vulnerable situations", the Italian Minister for Labour Nunzia Catalfo said in her speech to the ILO Global Summit underway in Geneva. Among many safety nets, the government has promoted a series of protocols with social partners to guarantee safety conditions in all workplaces in relation to the risk of contagion from the disease.
"The Minimum Guaranteed Income scheme launched in 2019 allowed Italy to be prepared for the economic emergency, with thousands of unemployed citizens and families in disadvantaged conditions already protected before the pandemic. Equally, a specific law adopted last year on platform workers, especially riders, had led to the adoption for that category of due protections in the event of an accident and to a better social security coverage. In the absence of collective bargaining, these workers cannot receive a wage calculated only on the basis of the number of deliveries and must receive a minimum wage based on the amount established in collective bargaining adopted for similar sectors at national level", Catalfo explained via videoconference.
An Emergency Revenue was also designed and implemented for two months, precisely to help all those who did not meet the requirements to access other support tools and found themselves without means of support, such as the many informal workers. Moreover, in the period in which the educational services for children were suspended, new forms of leave and mechanisms in the field of work-life balance were expanded and recognized, bringing benefit to many women too.
Still, there is a lot of work to be done in the coming months: "First of all, we intend to stabilize some of the measures adopted during the emergency period, such as the universalization of short-time work schemes in the framework of a broad reform", said Catalfo who also set up a "New Skills Fund", which will finance measures to allow workers to alternate hours of work and hours of training within their company.Additional measures were set up for the agriculture sector and for domestic workers with a set of provisions for regularisation.
An App has also been developed to put job supply and demand more easily in contact in the agricultural sector, to reduce the risks that intermediation be an occasion for abuse against agricultural workers, often migrants, while an inter-ministerial coordination has been put in place for some time now, with all public and private parties involved and with the support of the ILO office in Rome, to monitor the phenomenon of labour exploitation and unlawful recruitment, including by gangmasters (Caporalato) and develop new and increasingly effective measures to contrast it. (@OnuItalia)