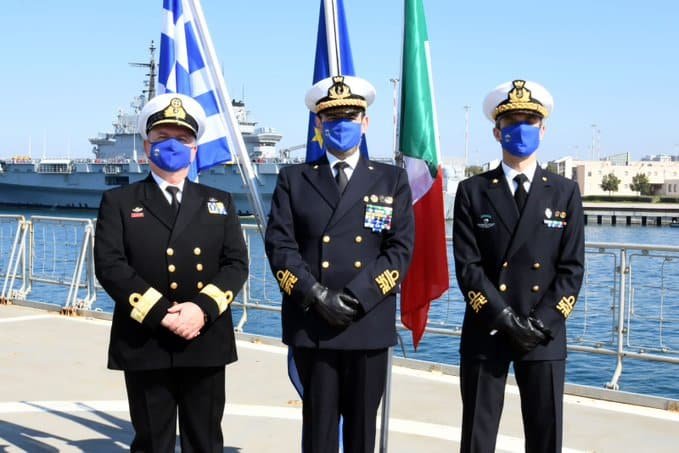 BRUSSELS/TARANTO, APRIL 1 – Operation Irini has a new Force Commander and a new Chief of Staff. Rear Admiral Stefano Frumento of the Italian Navy is from today in charge of the assets deployed in the area of operation in substitution of Commodore Theodoros Mikropoulos of the Hellenic Navy, while Commodore Michail Magkos, from the Hellenic Navy, is the new Chief of Staff, taking over from Brigadier General Filippo Quagliato, from the Italian Airforce.
Both ceremonies took place in the presence of Admiral Fabio Agostini, Operation Commander of EUNAVFOR MED IRINI. At the same time the Italian Warship San Giorgio replaced the Greek Ship Aegean as flagship of the operation.
"Operation IRINI has just completed its first year of activity. In these days, the EU Council has extended the mandate for other two years", said Agostini: "This is a recognition of our job and the confirmation of the will of EU Member States to fulfill the commitments they took at the Berlin Conference on Libya, in January last year."
Rear Admiral Frumento was born in Savona (Italy). He is part of the prestigious group of Italian Navy Seals COMSUBIN, which he had the privilege to command. He was also Commander of the Italian frigate Grecale and the Italian aircraft carrier Garibaldi. He participated in several international Operations.
Commodore Magkos last appointment before joining Operation Irini was Director of CIS Directorate in the Hellenic National Defence General Staff. During a 37 years career in the Hellenic Navy & Armed Forces, he had the opportunity to cooperate with various actors including not only the military but the civilian-diplomatic sector as well. (@OnuItalia)