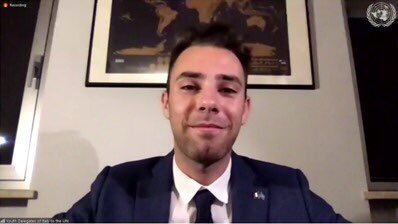 NEW YORK, SEPTEMBER 10 – Giulia Parenti and Simone, Mostratisi, Italy's Youth Delegates to the 74th General Assembly, brought their experience to the table addressing a UN Security Council Arria meeting on Youth, Peace and Security: "The natural desire for justice, inclusion, the enthusiasm and energy which youth provide can meaningfully contribute to peacebuilding, Sustanining peace and reconciliation", they said.
Italy has co-sponsored Resolution 2535 and is committed to the full implementation of the YPS Agenda: "During our mandate on the United Nations Security Council, in 2017, we promoted the systematic inclusion of provisions on the protection of civilians, especially the most vulnerable categories, including youth, in the mandates of peacekeeping operations", said Giulia and Simone.
Giulia Parenti, from Rome, comes from the University of Bologna (Forli' campus), where she studies International Sciences and Diplomacy. Simone Mostratisi, from Turin, studies International Sciences in his city of birth. In Italy, the UNYD programme is sponsored and organized by SIOI UNA-Italy, in collaboration with the Foreign Ministry and the International Cooperation. The Youth Delegates Program is active in 37 countries.
During the lockdown established in order to contain covid-19 Parenti and Mostratisi have organized a series of webinars with youth from all over Italy: "We had the confirmation that the natural desire for justice and inclusion, enthusiasm and energy which youth provide can meaningfully contribute to building and sustaining peace, and fostering reconciliation. However, youth continue to face significant structural barriers to the participation in the decision-making, and many young peacebuilders report that their participation is not welcomed by the public opinion or by those in positions of power".
Therefore, they added, "we firmly believe that member States must spare no effort in raising awareness on the role of youth in peacebuilding". To this goal, Italy funded the "2020 Torino Forum for Sustaining Peace: Women and Girls at the Frontlines of Peace". This event, which is taking place in these days, has been organized by the United Nations System Staff College (UNSSC) with a focus on the synergies between the YPS and WPS Agendas. (@OnuItalia)