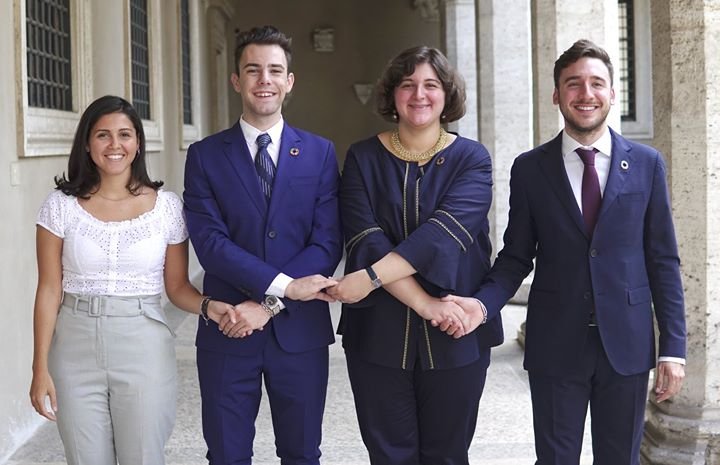 NEW YORK, DECEMBER 14 – Giulia Parenti and Simone Mostratisi continue to represent the young Italian community at the United Nations under the SIOI UN Youth Delegates Programme. In October of 2019, OnuItalia published an interview with Giulia and Simone, and we are delighted to have the opportunity to publish a follow up on their efforts and achievements over the last year. 
Since the last time we talked, which projects and experiences have you made as Youth Delegates?
"When Covid-19 hit, we started thinking about what we could do in times where delivering speeches and talking face to face with young people is not a possibility. At the beginning, it was even hard to understand what it meant to be a Youth Delegate in times of Covid, we had to partly re-define our figure. But after a short moment of crisis we were able to turn this challenge into an opportunity, we transformed our work with an initiative called Virtual Awareness, which was launched in March," explains Simone. Italy's Youth Delegates pioneered the virtual-events scene by organizing five webinars articulated around the five Ps of the agenda 2030, namely: People, Planet, Prosperity, Peace and Partnership. To each P they associates a Sustainable Development Goal (SDG), and all webinars had a special focus on Climate Action – the biggest threat of our times. 
The webinar on 'People', for example, was associated to Goal 3, namely good health and well-being, and it centered around the ongoing Covid-19 health crisis and young people's role in regards to this pandemic. In our conversation, Simone furthermore recalls the webinar on Prosperity: "We decided to focus on goal 5, namely gender equality, because we do think that focusing on gender equality is pivotal in order to get a more prosperous world". 
Giulia explains how "An important overarching question was 'how can young people engage with the Sustainable Development Goals?'. Not only for the Agenda 2030, but also for their own sake." Because, as written in the description of the project, "today more than ever, a decisive action is needed to accelerate progress".
The Virtual Awareness initiative proved to be a real opportunity borne out of a huge challenge: "Given the online format of the seminars, we were able to get many UN and NGO officials, from all over the world, to join. People who would have never been able to join had it been in person," explains Giulia, "and the webinars were quite successful, we were live on Zoom and Facebook, and on average around 4,000 people per webinar connected". The Youth Delegates always worked to ensure that the panelists were a good mix between younger and older people, "we did this because it's difficult to participate to an event about Youth when none of the speakers is young," explains Simone. 
Have you learned anything new about working for the UN and the value of the UN at an international level through recent experiences, despite the Covid-19 pandemic?
Last year, Giulia and Simone -alongside the other Youth Delegates- had the opportunity to speak in front of the Third Committee, with senior delegates present to hear their words and thoughts. This year however, with the meeting taking place online, the format turned out to be quite different. Indeed, listening to the approximately 40 Youth Delegates were only the President of the General Assembly, the Chair of the Third Committee, and the EU Ambassador to the United Nations. Giulia explains how "obviously it's not the same when you speak among each other, because we Youth Delegates more or less have the same language, in the sense that there is a common vision among out generation. What is important is to bring through the message to older people and older generations, to senior diplomats". But a further, arguably more valuable, experience was provided to Giulia and Simone thanks to the efforts and the initiative of the Italian Delegation, which was able to set-up the opportunity for them to speak at the open Security Council ARRIA meeting, celebrating the fifth anniversary of the Youth Peace and Security Agenda.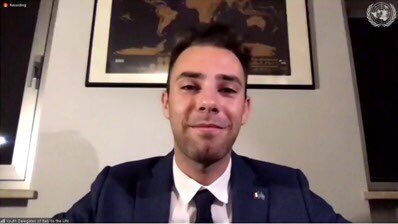 "We were given the chance to update the Security Council on the situation in Italy in regards to peace and security," explains Simone, "this was the first time that Italian Youth Delegates were given the floor to speak at the Security Council. I think this was, among all meetings, the most impacting and valuable". "We appreciated very much the ARIA meetings because we still got the possibility to speak to senior delegates, to those people who should be receiving our message, despite it not happening through the Third Committee this year," continues Giulia. 
According to Giulia and Simone, the Italian delegation did a really good job at ensuring that -despite the unfortunate circumstances- they could continue to learn and have an impact through their work as Youth Delegates.
In what significant ways has Covid-19 affected your work?
"Everything took a completely different direction," says Giulia. Upon their return from New York, the Youth Delegates had organized a very ambitious tour around Italy, as they were supposed to visit and holds talks at a multitude of universities and high-schools, to carry out what they call a 'giving-back' of their experience. In the words of Giulia: "if we don't return our experiences as Youth Delegates back to the Italian Youth, then what we have lived and learned in the past two years has less value". Young Italian people need to be more aware of the Youth Delegate program, they need to know that this organ of youth representation exists, and that they can become the next representatives of Italy's young community. "We furthermore wanted to use this tour to systemize opportunities for young people," continues Giulia, "because there are quite a lot of internships and opportunities out there, but they are scattered all over the internet and many individuals are not aware of their existence". Due to Covid-19, however, the tour had to be cancelled.
Another big loss was the Youth Plenary, which was to take place in March. As Giulia explains, "we were supposed to go there with the Italian Minister of Youth Vincenzo Spadafora and other parliamentarians, but the UN asked us to have the event online instead". While it was appreciatable from the side of the UN to convert the event online instead of cancelling it completely, for Giulia and Simone it meant losing the opportunity to meet and speak with Mr. Spadafora, which would have been an important step for the Italian Youth Delegate program. The online format furthermore did not give the participating Youth Delegates any space to intervene, or even ask questions, as only the moderators and the key speakers were allowed to speak. "In person it would have surely been different," concludes Giulia.  
An important goal for Giulia and Simone -one which also explains the disappointment with not being able to meet with Minister Spadafora- is that of continuing to shape and define the dynamics and reach of Youth involvement in the Italian diplomatic and governmental landscape. The UNYDP program in Italy is only four years old, and it's space and identity in Italian politics and diplomacy still needs to be consolidated and defined. Simone and Giulia have witnessed how some key political figures don't even know about the existence of the Youth Delegate program, "so part of our responsibility is also that of giving the program a more defined identity, reach and shape for those who will come next," explains Giulia. And yet, Giulia and Simone stroke important collaborations and successfully brought this aim closer to home. Indeed, they prepared to dossier for the Italian Ministry of Foreign Affairs: one on international youth politics, which proposed youth policies at the European Council and UN level; the second, which was primary the work of Giulia, focusing on the universal moratorium of the death penalty, a fundamental priority for Italy as the first country to propose a resolution on this topic. 
What is your opinion, and has it changed in any way, regarding the space and the possibilities offered to young people within the UN, and the Italian delegation more specifically? Are there enough young people working for this apparatus? Are enough initiatives to increase the number of young people being taken? Does Covid-19 pose any challenges in terms of Youth representation?
"Generally speaking, I think that in the last years the UN has done a great job when it comes to young people, although this change was definetely pushed by some key figures such as the Secretary General and the Youth Envoy, which have been more willing to sit with young people, listen to them and engage them," says Simone, "all and all, there is a trend. Nationally speaking, each country has also tried to do its part, and I think this was partly the result of figures like Greta Thunberg, who demonstrated that young people have powers and can built global networks without knowing each other. What must also be said is that the Italian delegation in New York has quite some young people -most of our supervisors are rather young for being diplomats in New York, which is one of the most popular and prestigious positions when it comes to diplomacy". 
"I would say that the space for young people has been reduced, but simply because the space for diplomacy in general has been reduced," continues Giulia, "I was reading an article from the Guardian on how senior diplomats were complaining about having meetings on Zoom, because this format does not allow them to talk off the record, which is essentially the way you make diplomacy. In diplomacy, the most important things are the little things that happen outside the negotiation table, when you get up and get a coffe together, that's what makes a difference, and that is not possible anymore… Covid-19 definetely poses challenges in terms of youth representation, but I think this is actually true for all types of representation". 
In the experience of Italy's Youth Delegates, the current pandemic has not posed an unsurpassable or unique challenge for youth representation in the UN: the trend continues to favor progress in this regards, despite this progress advancing a bit slower than expected this year.
What advice would you give to young people who want to work for the UN?
"I would say you need to be ready for change, and you need to be ready to hear things that make you feel uncomfortable, especially when it comes to the negotiating room and the talks that you hear", advises Simone, "I think being versatile is a very important attribute to have for someone who wishes to work for the UN. You also need to have a story, because in getting a job or an internship you are not only competing with people from your own country, you are competing with people from the entire world. What matters there is your personal story. And most importantly, don't give up. I know it sounds silly, but it might happen that you get rejected, and that is just part of the process. It's a matter of getting up when you fall."
To that, Giulia adds how "it does not matter how many times you fail, success is measured in how you respond to failure". For young individuals wishing to work for the UN, she also advises to "start looking for an internship, maybe not one that brings you directly to New York, but there are many many UN agencies to which you can apply, even in Italy -such as FAO, IFAD, WFP, UNICRI and ILO. And if you are unable to get an internship in an UN institution, then try to apply for an NGO which works with the UN." (SB)