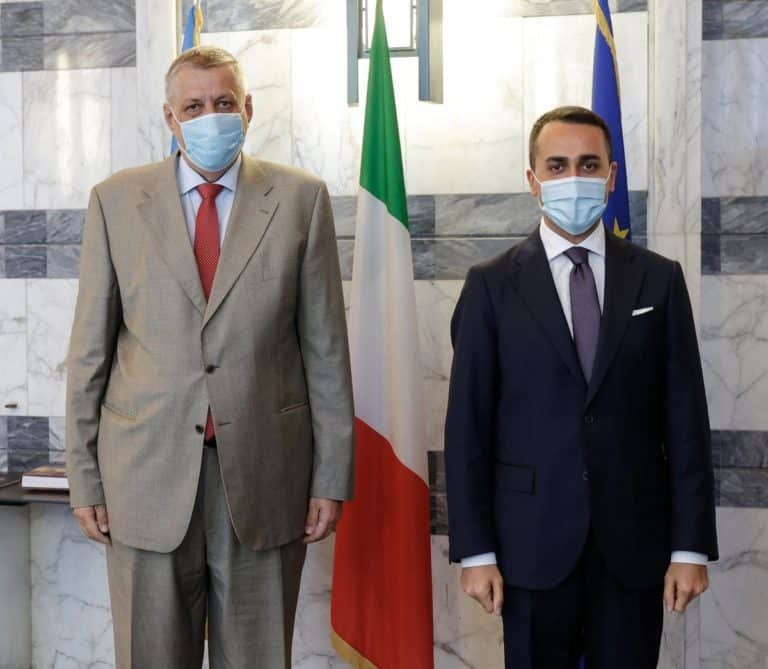 ROME, MAY 12 – The Special Envoy of the Secretary-General for Libya, and Head of the United Nations Support Mission in Libya (UNSMIL) Ján Kubiš arrived today in Rome on an official visit to discuss ways to further the peace process in Libya with Italian and EU officials.
Implementation of UN Security Council Resolutions 2570 (2021) and 2571 (2021), including the full implementation of the ceasefire agreement and the Libyan Political Dialogue Forum (LPDF) Roadmap leading up to the holding of elections on 24 December, were the focus of a meeting between Kubiš and the Italian Foreign Minister, Luigi Di Maio, in which both parts called on the urgent need for a speedy withdrawal of all mercenaries and foreign fighters from Libya as demanded by the Libyan people and called upon by relevant UNCRs. The Special Envoy also met with with Special Envoy Ambassador Pasquale Ferrara and Director of Political Affairs Ambassador Sebastiano Cardi at the Ministry of Foreign Affairs.
Mr. Kubiš also met with the Minister of Interior, Ms Luciana Lamorgese, who briefed him  on Italy's efforts to support the Libyan authorities in strengthening border control, especially in the South. They called for the need to respect Libya's sovereignty in accordance with relevant UN Security Council resolution, including the arms embargo. The Special Envoy welcomed the Italian initiative to open a humanitarian corridor and encouraged the intention of Italy to strengthen cooperation with UNHCR and IOM, to promote relocation and resettlement of migrants from Libya, in full respect of human rights. Di Maio riaffirmed Italy's full support to the United Nations' activities in Libya. The meeting allowed an exchange of views on the institutional transition and the importance of the electoral calendar. The centrality of the European missions Irini and Eubam Libya was also reaffirmed. While in Rome, the Special Envoy paid a visit to EUNAVFOR Med IRINI where where he received a briefing by Admiral Fabio Agostini on the implementation of the arms embargo at sea.
IRINI (Greek for "peace") is a military mission created in March 2020 by the Council of Europe, with the aim of implementing the UN arms embargo through air, satellite and sea assetts. Its mandate includes the possibility of inspecting ships in international waters, in accordance with Security Council Resolution 2292. Eubam Libya, a civilian mission, provides capacity-building in the areas of border management, law enforcement and criminal justice. The mission advises the Libyan authorities on the development of a national integrated border management strategy and supports capacity building, strategic planning and coordination among relevant Libyan authorities. The mission is based in Tripoli and is, since last February, led by Italian national Natalina Cea.
Earlier in the day, Di Maio had discussed the situation in Libya with his German collegue, Heiko Maas. Italy is ready to support the German initiative for a new ministerial meeting to be held in the "Berlin" format in June, he said. "We give great importance to the joint action of Italy and Germany, within the Berlin format, in support of the UN-led process to achieve stabilization in the country," added Di Maio: "In recent months we have seen encouraging developments, such as the designation last March of a new transitional executive authority, the first representative of the entire country since 2014. However, we must exercise realism and remember that much still remains to be done in view of the finish line, the elections, which will be held on December 24". In this regard, he mentioned the delay for the adoption of a national budget, and the stalemate for the reopening of the Sirte-Misurata coastal road. (@OnuItalia)