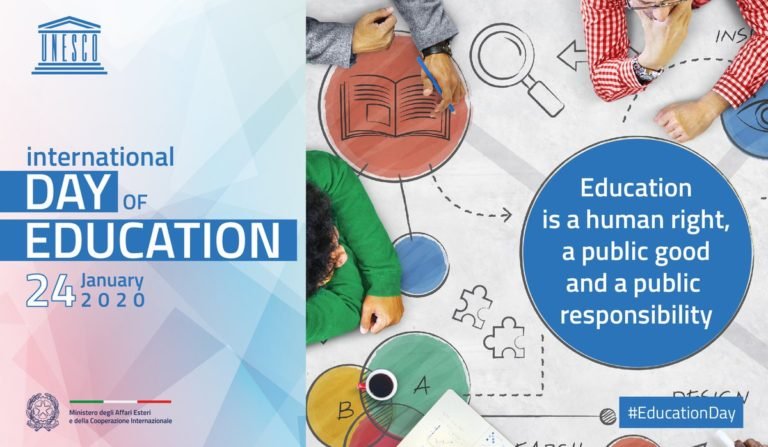 ROME, JANUARY 24 – Italy joined the celebrations on the Second International Day of Education, proclaimed by the General Assembly of the United Nations as it considers education "a human right and a fundamental factor of development, which represents an indispensable and priority element to allow everyone to fully develop their human, social, economic and cultural potential, in line with the Sustainable Development Objective n.4 of the United Nations Agenda 2030", the Italian Ministry of Foreign Affairs said in a note marking the event.
Despite considerable progress over the last decade, it is estimated that 262 million children still do not have access to schools, particularly in Sub-Saharan Africa, and that more than 600 million children and adolescents do not reach the minimum learning levels in primary and secondary schools. In the light of these data, Italy remains at the forefront to facilitate girls access into schools and ensure inclusive and quality learning, starting with the most vulnerable populations and social groups.
The Italian Ministry of Foreign Affairs is fully committed to this goal through the activities of its Cooperation division in many areas of the world, in particular in Sub-Saharan Africa and the Middle East, in liaison with UN Agencies and Civil Society Organizations. Among the priorities carried out by Italy: inclusive education, starting with the education of girls of all ages, access to quality services for the disabled, and continuity of studies even in situations of conflict and humanitarian emergency, in line with the "Safe Schools" Declaration of 2015, to which Italy has adhered since the first moment.
Particularly important are the interventions carried out with UNICEF, such as the programme for "Quality Education" in Tunisia and the humanitarian interventions in the framework of the "No Lost Generation" initiative, in particular in the response to the Syrian crisis. Also, of great impact are the nutritional support programmes managed by WFP, such as the "School Nutrition Programme" and the Italian contribution to the "Common Fund for Education" in Mozambique, set up by the World Bank. Italy is also one of the founding countries and one of the main donors of the Global Partnership for Education (GPE), the only global partnership dedicated entirely to financing education in more than 70 developing countries.
Italy – continues the note of the Italian Ministry – also promotes respect for international humanitarian law and condemns attacks on schools and the forced recruitment of minors. The humanitarian initiatives combine rehabilitation of school buildings, teacher training, food safety and psychological support for minors. On the occasion of the 33rd International Conference of the Red Cross and Red Crescent in December 2019, Italy formally committed to increase its initiatives to protect children living in conflict zones, also guaranteeing the continuity of the right to education. (@OnuItalia)