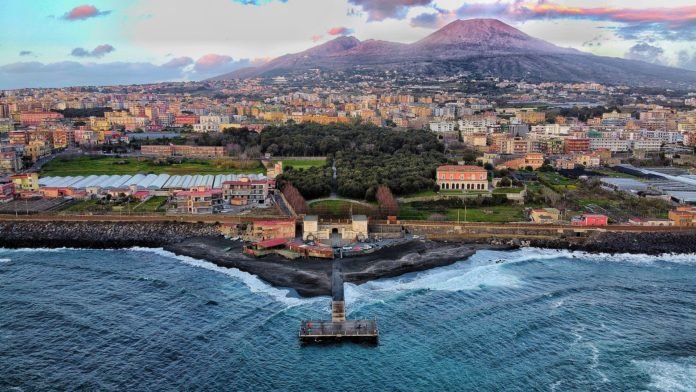 PORTICI (NAPLES), DECEMBER 4 – The city of Portici has joined the Making Cities Resilient 2030 initiative, a UN Office for Disaster Risk Reduction programme built to assess the extent to which the municipality is prepared for future risks and disasters. The assessment was drawn using ten 'Disaster Resilience Scorecard for Cities' indicators. The UN Office furthermore helped the local administration in developing an extensive strategy for disaster risk reduction.
Resiliency at the foot of the volcano
With a population density among the highest in the world, Portici is located at an excellent geographical position. Standing next to the Vesuvio, the city benefits from a mild climate and extraordinarily fertile soil, thanks to the residues of volcanic origin. The price to pay for these ideal natural conditions is, however, at times very high. Indeed, the city faces everyday the risk of ending up like the Roman city of Pompei, which was washed away by an eruption of the Vesuvio. Today, Pompei is one of the most visited archeological sites world-wide, and it lies in close proximity to the city of Portici.
In light of the current Covid-19 health emergency, it is fundamental to recognize the pivotal role carried out by local governments in facing any type of disaster. Municipalities are at the forefront of responding to emergencies- for this reason they need to be equipped with solutions to the problems they will face, so to be able to overcome the challenges of the future and improve their abilities of prevention and action. Through its Making Cities Resilient 2030 initiative, the UN Office for Disaster Risk Reduction offers its support to all countries and local and regional governments, in developing plans envisioned to reduce risks tied to disasters.
Virtual Workshops and Recommendations
During workshops which took place between November 18th and 25th, a series of opportunities for enhancing responses to risks were identified. For example:
The need to address 'waterfall risks', meaning a series of risks which are interconnected;
The need for a strategy focusing on tackling pandemic risks;
Strengthening the capacity of the ASL and local sanitary services, to avoid hospitals from overcrowding in the case of a health emergency;
Improving communication systems with those responsible for railway lines and highways, which would facilitate coordination in case of a disaster;
Restructuring all school buildings to render them anti-seismic
To align itself with European standards, Portici will work to develop a network of risk communication, which keeps in consideration the needs of the most vulnerable groups of the community. The Municipality has also undertaken the implementation of an urban plan that will include provisions for disaster risk reduction such as the introduction of quays to support the coastline, soil sealing and the deployment of alert systems. With this work done, the city of Portici will have improved its ability to respond -quickly and effectively- in case of disasters, and will have successfully strengthened its resilience. (SB@OnuItalia)