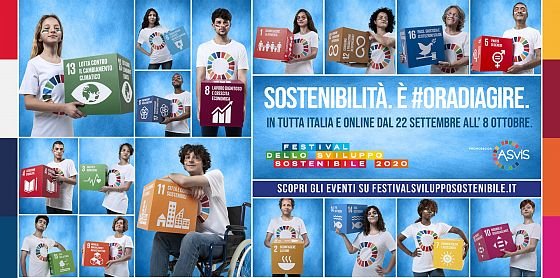 ROME, SEPTEMBER 14 – The 4th edition of the Sustainable Development Festival, organized by the Italian Alliance for Sustainable Development (ASviS) and supported by the Italian Ministry of Foreign Affairs and International Cooperation, the Ministry of Environment and Protection of Land and Sea, the Ministry of Culture and Tourism and the European Commission, will take place from 22 September to 8 October in Rome and online.
The Opening Conference, entitled "From crises to recovery: for a Sustainable transformation of Europe and Italy", will focus on the European and Italian response to the COVID19 multidimensional crisis, highlighting its goal to strengthen the sustainability and resilience of our economies and societies, with the 2030 Agenda and the Paris Agreement as the compass for a better and greener recovery.
Established in 2016, the Festival is the major Italian initiative aimed at raising awareness, sharing best practices and mobilizing all relevant stakeholders – civil society, youth, the private sector, local authorities, academies and universities, NGOs and associations – on the issues related to the implementation of the United Nations' 2030 Agenda and the 17 Sustainable Development Goals. Each year, the Festival comprises 17 days of conventions, debates, book presentations, exhibitions, film reviews, guided tours and flash mobs organized by the over 270 members of ASviS and by other civil society organizations. A dynamic and multi-stakeholder participation, which attests to the full engagement of the Italian institutions and of all components of the Italian society in mainstreaming the SDGs into public and private policies as well as in individual behaviors and lifestyles.
In 2019 the Festival was nominated, among over 2,000 projects, as a finalist for the SDG Action Awards of the UN SDG Action Campaign for being an innovative and unique initiative on the global scene.
Opened by ASviS President Pierluigi Stefanini and ASviS Spokesperson Enrico Giovannini, the 4th edition will feature among its keynote speakers Ursula von der Leyen, President of the EU Commission; Paola De Micheli, Italian Minister of Infrastructures and Transport; Paola Pisano, Italian Minister for Innovation and Digitalization; Elisa Ferreira, European Commissioner for Cohesion and Reforms, and many other institutional representatives and private sector's leaders.
The Permanent Representative of Italy to the UN, Ambassador Mariangela Zappia and the UN Assistant Secretary-General for Policy Coordination and Inter-Agency Affairs, Maria-Francesca Spatolisano, will participate from New York to share their perspectives on the 75th session of the UN General Assembly. (@OnuItalia)