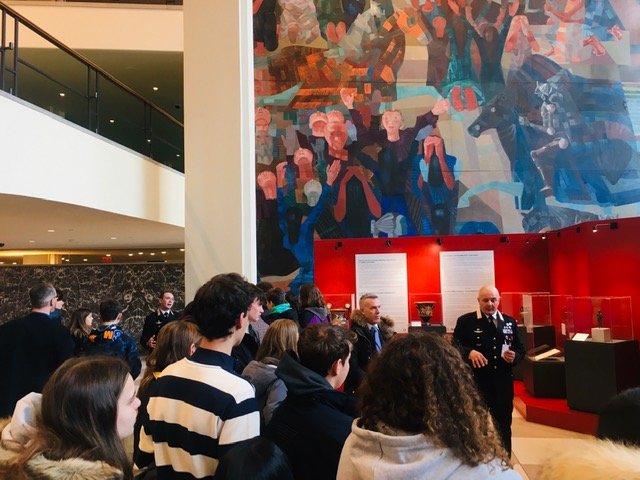 NEW YORK, JANUARY 13 – Students from UNIS, the United Nations International School in New York, visited last week the exhibition "Recovered Treasures: The Art of Saving Art" based on historical objects stolen or illegally excavated and subsequently recovered by the Italian Carabinieri Command for the Protection of Cultural Heritage (TPC).
The students took part in a guided tour during which the representatives of the Command explained their role as "soldiers for the Arts". The exhibition was organized in occasion of the 50th anniversary of TPC. It was also the first cultural event to be held at UN Headquarters in light of the celebrations for the 75th anniversary of the organization, which will be taking place throughout 2020.
The exhibition opened last week. Its aim is to showcase the innovative role performed by the Carabinieri Unit in the fight against art crimes and art trafficking, and in the protection of cultural heritage in conflict zones. The fifteen art pieces -among which is a relief of Palmyra, to be returned to Syria at the end of the exhibition's tour- were recovered through investigations in which international collaboration and multilateralism played a key role.
"The preservation of cultural heritage and cultural identity is an essential medium of dialogue among different civilizations, as well as different generations, cultures and religions. With its 50 years of service, the TPC Carabinieri Command is a testimony of what Italy has traditionally always done for the protection of culture within the UN," said Ambassador Zappia the day of the inauguration.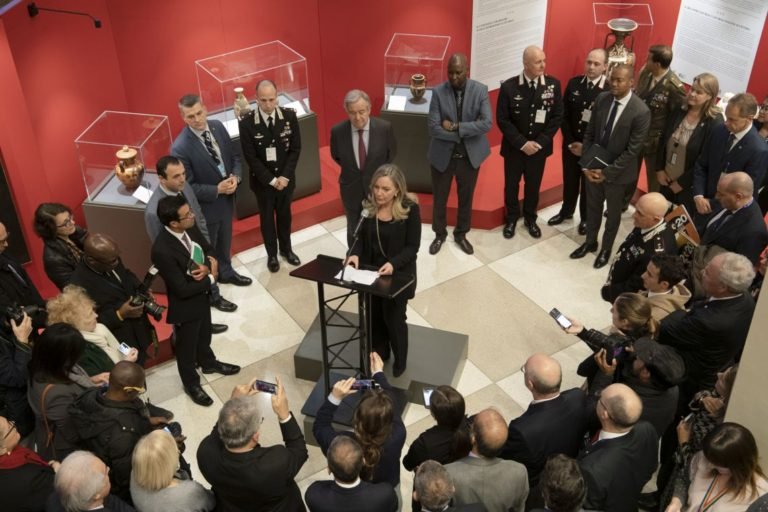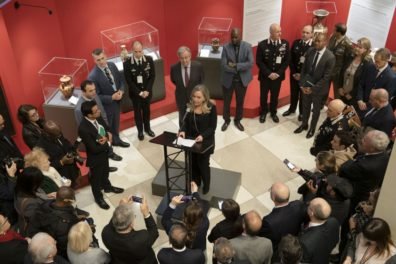 UNIS is an international private school located in New York and founded in 1947 by families working with the United Nations. This school aims at providing an international education while also preserving the cultural differences of the students. Today, UNIS has 1600 students and English as its first language. In elementary school all children study either French of Spanish, and by high school Arab, Chinese, German, Italian, Japanese and Russian enter the curriculum.
"The Art of Saving Art", open until the 17th of January, was initially inaugurated by the President of the Italian Republic, Sergio Mattarella, in May 2019 at the Quirinale Palace. In October 2019 it was at the UNESCO Headquarters in Paris, and by the end of the year it will travel to Beijing. (SB@OnuItalia)