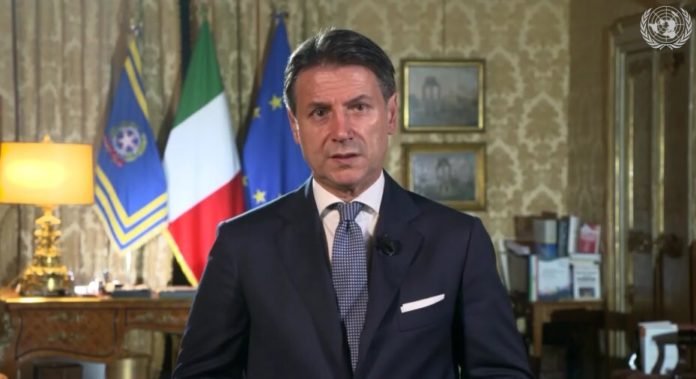 ROME/NEW YORK, OCTOBER 1 – " We must step up our efforts to remove all structural barriers that women still face every day and fight any form of discrimination and vulnerability. Italy is fully committed to promoting greater participation of women in decision-making processes", the Italian Prime Minister Giuseppe Conte addressing the High-Level Event convened to commemorate the 25th anniversary of the landmark Fourth World Conference on Women held in Beijing, China.
Today Italy joined 81 other countries in a statement marking the date: "Twenty-five years of hard-fought gains are now seriously under threat by intensive pushbacks against these rights. Too many women and girls are still denied the right to make decisions about their own lives and are subject to sexual and gender-based violence, including harmful practices, with the tragic reality that one in three women worldwide will experience violence in her lifetime, while COVID-19 has dramatically aggravated this situation", the statement reads.
The Beijing Conference, as it is known, marked a significant turning point on the global agenda, making it clear that women's rights are at the heart of equality and justice around the world.  But as the UN Secretary General Antonio Guterres told the virtual gathering, the Conference was also a "wake-up call" as these rights are still being denied, hindered and ignored everywhere.
"COVID-19 has emphasized and exploited the continued denial of women's rights. Women and girls are bearing the brunt of the massive social and economic impact of the pandemic," Guterres said, speaking from the rostrum in the almost empty General Assembly Hall.
The Beijing Conference concluded with a groundbreaking Platform for Action, with commitments covering 12 areas of concern, such as power and decision-making, poverty, violence against women, education, human rights and discrimination against girls.
"In both containing COVID-19 and promoting post-COVID economic and social recovery, it is particularly important that we address the special needs of women and deliver on the Beijing Declaration and Programme for Action", said Chinese President Xi Jinping in a statement recorded for the event. (@OnuItalia)