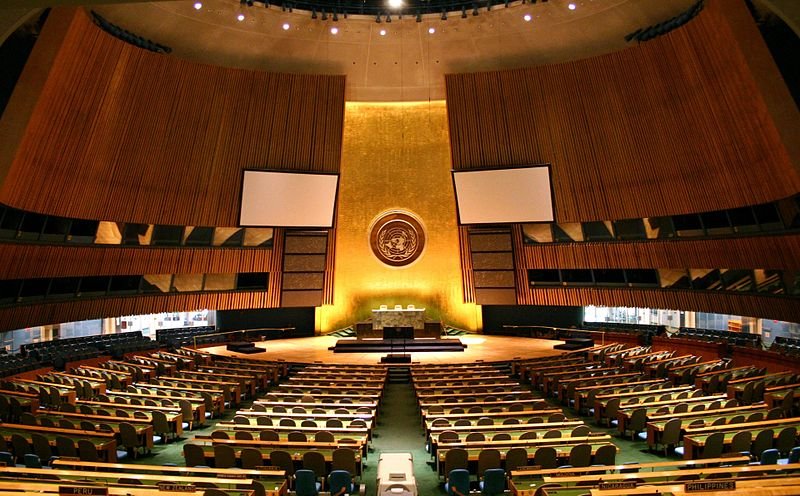 NEW YORK, SEPTEMBER 4 – The general debate of the 75th General Assembly will be held from Tuesday, 22 September, to Saturday, 26 September, and on Tuesday, 29 September 2020. It will be preceded on September 21 by a high-level meeting to commemorate the seventy-fifth anniversary of the United Nations "reaffirming our collective commitment to multilateralism".
A summit on biodiversity will be held on Wednesday, 30 September 2020, preceded on September 29 by a high-level meeting convened by the Secretary-General and the Prime Ministers of Canada and Jamaica on the theme "Financing the 2030 Agenda for Sustainable Development in the era of COVID-19 and beyond". The 25th anniversary of the Fourth World Conference on Women will be marked on Thursday, 1 October 2020, followed on October 2 by a high-level plenary meeting to commemorate and promote the International Day for the Total Elimination of Nuclear Weapons. The Secretary- General has also convened a leaders event on climate change on a date still to be determined.
This year's high level segment of the General Assembly will be drastically scaled down on account of the pandemic. Each Member State can submit a pre-recorded statement by their respective Head of State or goverment of Foreign Minister wich will be played after being introduced by the respective national representatives who are physically present in the Assembly Hall.
Wherever possible, online meetings remain the recommended and preferred option. Taking into account that New York State guidelines do not currently permit indoor gatherings of more than 25 people, all events will be ticketed to limit the number of delegates in the United Nations Headquarters complex and in each meeting room. Bilateral meetings and ad hoc face-to-face meetings are not permitted within the complex.
Entry to the Headquarters complex will be restricted. No visitors will be allowed entry and external media will be limited. All persons will be required to attest as a condition of entry that they have not had symptoms of or been diagnosed with COVID-19, or had close contact with someone who has symptoms of or has been diagnosed with the virus in the previous 14 days.
Throughout the complex, doors will be opened to allow no-touch passage, walkways will be arranged and signage will be posted to improve one-way flow, access to elevators will be limited to two people at a time and seating will be removed from common areas. All attendees will be expected to wear a mask or face covering except when directly addressing a meeting. Hand sanitizing stations will be provided and increased cleaning will be implemented between meetings and for high-touch surfaces in order to reduce contact hazards. To further reduce the risk from contact, all food and beverage services will remain suspended.
In order to limit the footprint and number of people in the United Nations Headquarters complex, physical access and presence in the General Assembly Hall will be limited to one representative per Member State and observer State and for the European Union. (@OnuItalia)