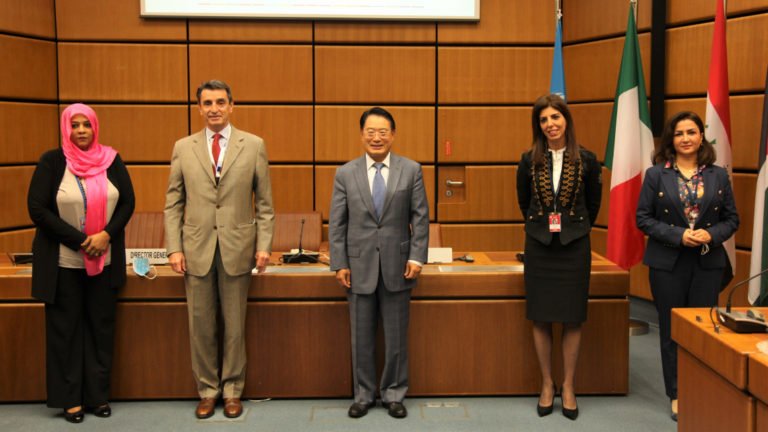 VIENNA, OCTOBER 7 – To support partner countries in their efforts to foster inclusive and sustainable industrial development, the Government of Italy is funding three new UNIDO interventions in Iraq, Jordan and Sudan. The announcement was made today at the UNIDO Headquarters by the Permanent Representative of Italy to the International Organizations in Vienna, Ambassador Alessandro Cortese, UNIDO's Director General, LI Yong, and representatives from the beneficiary countries.
To help realize the potential of Iraq's extensive reservoir network to drive its socio-economic development, one project aims to support the authorities in safely operating the Mosul Dam and in efficiently managing the national hydraulic infrastructure. UNIDO's proposed dam safety programme is a response to Iraq's Ministry of Water Resources' call for capacity development and technology transfer, and addresses the need for behavioural change for effective and safe dam maintenance.
In Jordan, UNIDO is renewing its focus on the country's textile value chain which offers significant opportunities for sustainable economic growth. Building on the achievements of the EU- and Italy-funded and UNIDO-implemented Creative Mediterranean, the intervention aims to strengthen the role of the Garment Design and Training Service Centre in Irbid, create linkages across the textile industry, and support the promotion of the fashion collection JO!, one of Creative Jordan's success stories.
Based on lessons learned from current and past UNIDO projects in Kassala State in Sudan, a new project aims to develop entrepreneurship and strengthen the technical and financial capacity of national producers' associations, as well as enhance access to sustainable energy sources in the production process.
The Government of Italy is currently financing a large portfolio of 30 projects in areas such as women's and youth empowerment, investment and job promotion, and private sector development, and has recently expanded its interest and support in the fields of clean energy and energy efficiency.
UNIDO's Director General Li said, "Italy has always been a strong partner of UNIDO and advocate of the 2030 Agenda for Sustainable Development," adding that, "Together we have been able to achieve commendable results."
Ambassador Cortese also stressed that "Italy is pleased to continue joining hands with UNIDO and our partner Countries to achieve inclusive and sustainable industrial development, with a special focus on job creation, and so  build a better future in this decade of action."
Italy is one of the largest donors to UNIDO, and through the support provided for the three projects, again signals its commitment to the realization of the Sustainable Development Goals and the 2030 Agenda. (@OnuItalia)