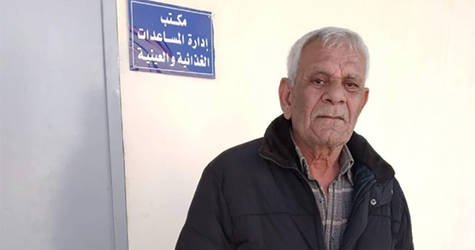 NEW YORK, JUNE 25 – The activities of the UN agency responsible for assisting Palestine refugees, UNRWA, which has allowed millions of children to receive an education that promotes UN values of human rights and tolerance, as well as democracy and conflict resolution, should be viewed "not only as our common responsibility, but as our common success", said Secretary-General António Guterres on Tuesday.
The UN chief was speaking at the opening of the 2019 pledging conference for UNRWA, officially the Relief and Works Agency for Palestine Refugees in the Near East, alongside the President of the General Assembly, María Fernanda Espinosa Garcés, and the agency's Commissioner-General, Pierre Krähenbühl.
Mr. Guterres vaunted the accomplishments of the agency over its almost 70-year existence. As well as running more than 700 schools, providing free education for over half a million Palestine refugee children, UNRWA maintains high-quality and cost-effective health care services; runs emergency and social services; and provides food aid, which includes meeting the needs of one million Palestine refugees in Gaza.
"Italy strongly appreciates and supports the crucial work that the Agency under the leadership of Commissioner General continues to carry out in order to provide essential services to Palestinian refugees, especially women and children", the Italian Deputy Permanent Representative, Stefano Stefanile said today, addressing the meeting: "The Agency plays a key role – he remarked – not only because it provides shelter, food and healthcare, which is essential per se, but also because it contributes to the broader stabilization of the region, by addressing long-term fundamental needs, first of all education for young people". A pledging conference for the UN agency responsible for assisting Palestinian refugees, UNRWA, raised $110 million in pledges on Tuesday, helping to plug a $211 million shortfall in the agency's $1.2 billion annual budget. Pierre Krähenbühl, UNRWA's commissioner-general, thanked donors but said the agency was far from "out of the woods".
The General Assembly President warned that the agency was $211 million short of the $1.2 billion needed to deliver its aid programmes. Ms. Espinosa went on to ask delegates to consider the consequences of a failure to meet the funding requirements, for "half a million boys and girls, for 5.4 million refugees, for the wider region and for the world."
Mr. Krähenbühl explained that, in the absence of new contributions, the funding gap will rise throughout the year, adding that it is "absolutely crucial" to open schools on time in August and September, and to avoid a break-down of the agency's food pipeline for a million people in Gaza. The conference raised $110 million in pledges on Tuesday, helping to plug the shortfall. Krähenbühl thanked donors but said the agency was far from "out of the woods".
In terms of financial contributions, Italy has traditionally been among the most significant supporters of UNRWA, both nationally and through the contribution of the European Union. Stefanile welcomed UNRWA's efforts to ensure the sustainability of its operations in what continues to be a particularly challenging period: "We appreciate the introduction of difficult but necessary cost-cutting and efficiency measures, in the framework of a more focused use of UNRWA financial resources. We encourage the Agency to persevere in these efforts and to increase its activities towards broadening and diversifying UNRWA's donor base". (@OnuItalia)