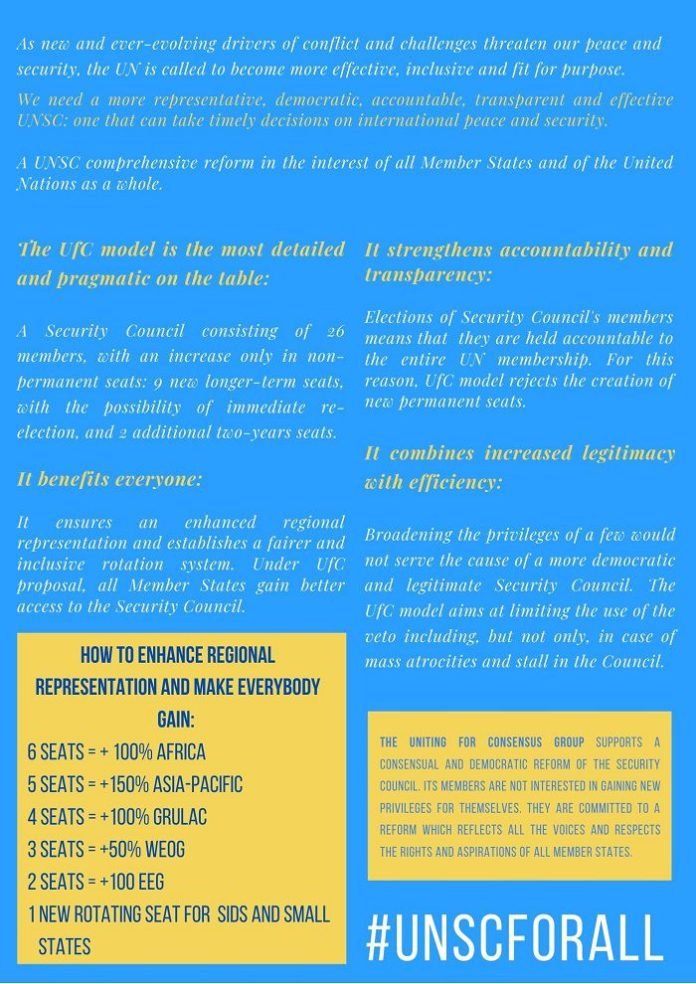 NEW YORK, JANUARY 25th – "To make real progress towards a consensus-based reform of the Security Council, the intergovernmental negotiations must focus on substantive issues, with full participation and a constrictive and flexible spirit from everyone. The Uniting for Consensus (UfC) group is ready to do so, with its openness to dialogue and willingness to listen to all positions", Ambassador Mariangela Zappia, Italian Permanent Representative to the UN in New York, said on behalf of the UfC group at the opening of the negotiating session on Security Council reform, held today at the UN Headquarters.
"Uniting for Consensus wants a reform that benefits all member states, a reform by all and for all, not one that benefits just a few. The Council's new composition should more fairly reflect all regional groups, and increase access for regions that have so far been unfairly underrepresented: Africa most importantly, but also small island developing nations," said the Ambassador. She added that, "the UfC proposal is the most pragmatic and detailed among the proposals put forward and would effectively and realistically allow for stronger regional representation."
In opening the meeting, the President of the General Assembly, Volkan Bozkir, noted that the implementation of the Council's decisions, and its very legitimacy, could be enhanced if the Council was reformed to be more representative, effective, efficient, accountable and transparent. He added that it is critical for any reform to reflect the realities of the 21st century, and that the most appropriate platform to pursue this reform is within the framework of intergovernmental negotiations. "But this process would be put at risk if we fail to make real progress," Bozkir said, calling on all delegations to use this opportunity to engage constructively, "we need to give this process a chance."
Zappia underlined how the formula proposed by the UfC -namely the expansion of non permanent membership only – would give all regional groups and states more opportunities to sit at the Council, and have a voice in pivotal decisions affecting international peace and security.
"Permanent members represent only themselves, not the regions to which they belong. Expanding their number would in no way serve the cause of a more democratic and representative Council, and would bring about the unacceptable risk of a Council paralysed by increased veto powers," noted the Ambassador, "For the Security Council to be more representative, it is necessary that all new members are elected, and therefore accountable, to the membership." (SB@OnuItalia)