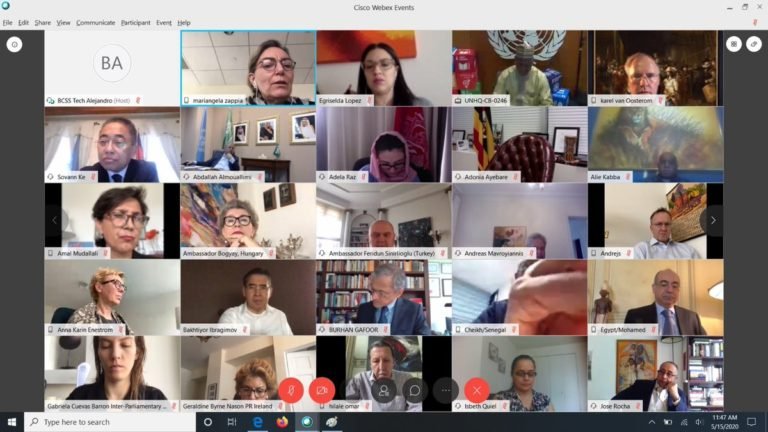 NEW YORK, MAY 15 – "The Covid-19 pandemic poses unprecedented challenges and, at the same time, offers the opportunity for a recovery that leads to a future of greater resilience and sustainability. Today, the General Assembly has a more central role than ever to advance the mandate of the United Nations, in support of the 2030 Agenda for Sustainable Development and the protection and promotion of human rights, Ambassador Mariangela Zappia, Italian Permanent Representative to the UN in New York, said during an informal meeting between Member States and Volkan Bozkir, who is slated to lead the historic 75th session of the UN General Assembly which begins in September.
"The outbreak has coincided with the 75th anniversary of the UN. This is a stark reminder of the importance of effective multilateralism and, particularly, the crucial role of the UN and its agencies," Bozkir said. As the coronavirus does not see borders or discriminate, he stated that the fight to defeat it should not result in stigmatization, inequality or injustice. "A world free of Covid-19 will require the most extensive public health and social recovery effort all over the world," he added.
Climate action, food security, human rights, especially for women, are the priorities outlined by Italy. Zappia expressed appreciation for the program presented by the incoming PGA.
"Italy's hope is that the crisis will turn into a relaunch of the commitment to achieve the worldwide goal of "Zero hunger" and to guarantee access to adequate, safe and nutritious food to everyone, especially the most vulnerable. We are committed to this as presidents of the Group of Friends for Food Safety and Nutrition and host country in Rome of the UN agri-food hub,", said Zappia, also recalling that Italy, in the framework of the partnership with the United Kingdom for the upcoming COP26, continues to work to raise ambitions in the fight against climate change and to accelerate the transition to a green economy by mobilizing all the players.
Furthermore, recalling the position of the Group Uniting for Consensus for a reform of the Security Council that would make it more democratic, representative, responsible, transparent and effective, Zappia expressed her hope that, under the guidance of the incoming President, it will be possible to advance negotiations towards an inclusive solution capable of gathering the broadest consensus among Member States. (@OnuItalia)