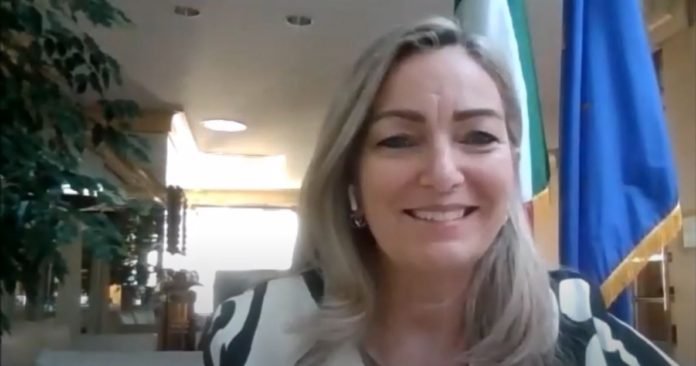 NEW YORK/ROME, OCTOBER 13 – Women at the peace table yield better results. Why are there so rare? According to the UN, between 1992 and 2018, only 13% negotiators, 3% mediators and 4% signatories in major peace processes were women. A 2018 study published in the journal of International Interactions found that of the 82 peace agreements it looked at between 1989 and 2011, women made up less than 20 percent of the signatories across six peace processes in Democratic Republic of Congo, El Salvador, Guatemala, Northern Ireland, Papua New Guinea and Liberia. 
"This is not enough: women's effective participation in peace negotiations is essential to increase the sustainability and quality of peace", the Italian Permanent Representative to the UN, Ambassador Mariangela Zappia, said today.
Zappia was addressing "Women Talks", a discussion organized within the project "Women Peace and Security. Legal Aspects and Beyond" by the Department of Political Sciences of the University of Rome La Sapienza, focusing on the progress achieved in implementing the Women Peace and Security Agenda, 20 years after the adoption of the UN Security Council Resolution 1325. The same issue is front and center today in the New York Times: "Women peace builders and women-led organizations are often the ones running toward the problem while everyone else is running away", writes Sanam Naraghi-Anderlini, author of "Women Building Peace: What They Do, Why It Matters", but "there is this triple whammy of sexism, racism and systemic flaws in how peace processes are designed". 
Italy is strongly committed to protect and promote women's rights and the effective participation of women in conflict prevention and solution, peacekeeping and peace-building. "Italy, said the Italian Ambassador, is also engaged in the fight against gender-based violence in armed conflict, is a champion of the Agenda for Peace, a key contributor to peacekeepers' training on women's rights and partnering with the United Nations against traditional harmful practices such as female genital mutilations and in mainstreaming the issue of gender in all development cooperation activities".
To read Naraghi-Anderlini's interview with the New york Times, please click here. (@OnuItalia).